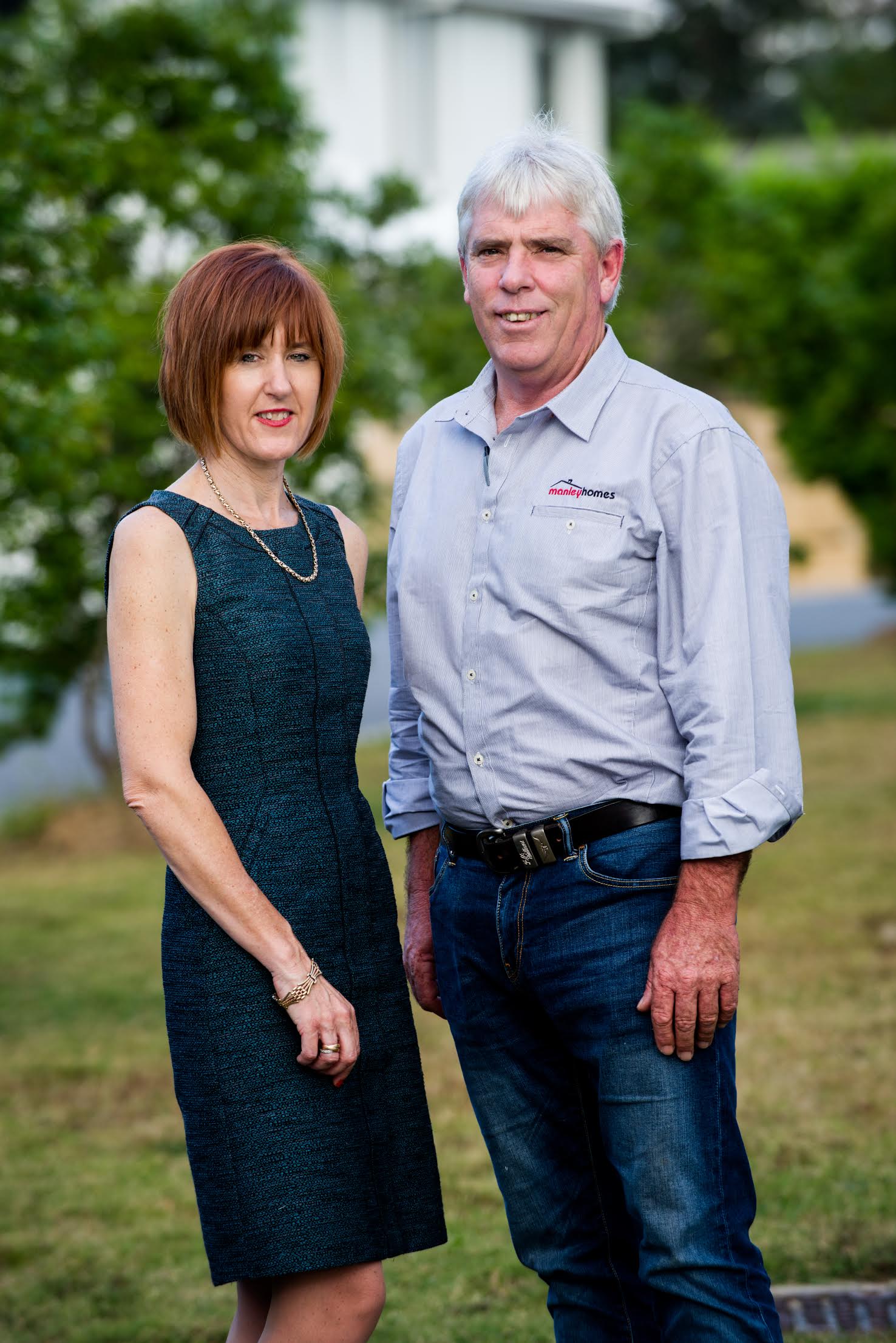 Rex and Karen Manley have been custom home builders in Queensland for over 25 years, earning a strong reputation within the building industry, and a long list of happy homeowners along the way.
Rex is a qualified Carpenter and licensed home builder with 30 years of experience in Queensland and 15 years prior to that learning & perfecting his skills in New Zealand the 'old fashioned' way. He learnt every aspect of construction from pouring slabs, building frames & fixing roofing to hanging doors & the skills required to get a great finish for skirting boards & architraves. He brings all those skills & the little tricks mastered over years to each build.
He was also a building Supervisor for several reputable custom home building companies in Queensland before deciding to start his own.
R & K Manley Construction was established in 1995 & later rebranded to Manley Homes specialising in custom homes on unique and challenging sites across Brisbane. With typically only one or two homes under construction at any one time each home benefits from his complete focus.
Manley Homes are fully licensed custom home builders and proud Brisbane home builders who remain focussed on maintaining a close & collaborative working relationship with every client to ensure that their home meets their quality expectations & also remains on time & on budget.
Rex still loves to build and can often be found onsite, on a trestle, with a hammer or nail gun in his hand. He will even be there to meet deliveries & assist other trades to save them time & inconvenience, because thats the type of guy he is.
Rex is the main point of call for clients throughout the entire project. He works closely with his clients and his trades onsite to ensure every aspect of each new home build is covered and that clients are happy with the direction & quality of construction throughout. Striving to be the best builders, Brisbane clients can be assured that not only is their licensed builder onsite during construction but also more importantly that all of communication is directly with him.
Karen brings a feminine touch to construction. She works closely with the lady of the home & brings a more emotional, nesting approach to each home build.
While the men are being practical and their attention is on constructing a house, she teams with the women to build the 'home' they dream of for their family to grow in.
Her focus is also on coordinating both the internal and external colours and finishes to ensure they work harmoniously together in each new home. She keeps up to date with the current trends in tiles, tapware, lighting, kitchen and bathroom finishes & provides free colour consulting throughout each project to fully coordinate tiles, paint and other finishes. She helps to ensure that the colour scheme and style of the home is uniform and in keeping with your own personal style and
With Rex & Karens experience building all styles of quality homes, their wealth of knowledge, and their total flexibility as quality custom home builders, Brisbane clients are ensured of a customised approach that suits their specific requirements.
Regardless of the project, whether building anything from a beautiful new Hamptons style home to a small lot home, re-energising an older home with a spacious lifestyle renovation or knocking down an existing home to rebuild a more functional and modernised one to better suit our Queensland lifestyle on the same site; Karen, Rex and their trusted team can provide the complete design and build services to make building a beautiful new Brisbane home a reality.
Talk about your build today.